Advanced Data Discovery Benefits and its Features
Jagreet Kaur Gill

- posted on Jan 4, 2022 8:02:09 AM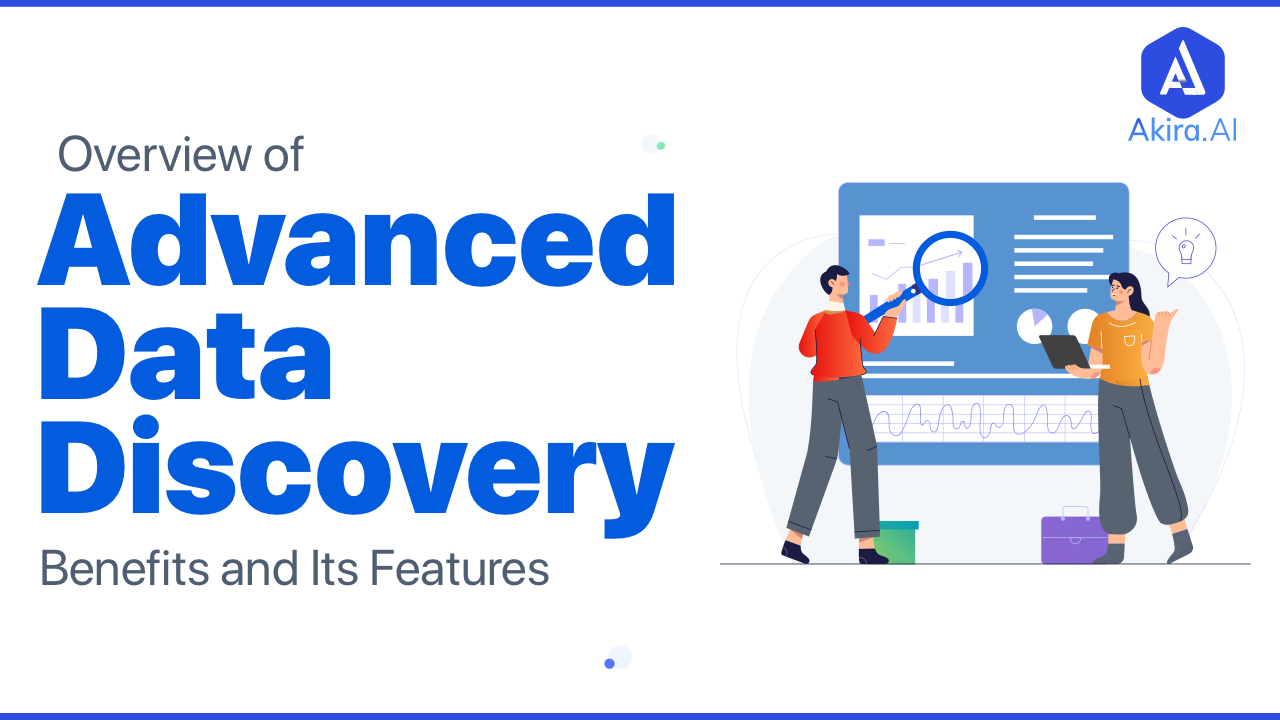 Introduction to Advance Data Discovery
Advanced data discovery is not limited to data scientists or IT staff only in today's world. Even business users also demand it. Business users demand quick and easy preparation and analysis data, visualize and explore data, notate and highlight the data, and share the data with others to identify the important nuggets. Without advanced analytics, it is impossible to achieve this within seconds. But with the concept of advanced data discovery allows business users to leverage advanced analytics, which helps in the rapid return of investment, increases revenue, and lowers the total cost of ownership. The key to data democratization and data literacy is Augmented Analytics. When an advanced analytics application for enterprise customers is developed, it encourages team members to use advanced analytics and lets the organization grow Citizen Data Scientists.
---
Click to explore about Big Data Discovery using Blockchain
What is Advanced Data Discovery?
Advanced-Data Exploration helps enterprise users effectively prepare and view, analyze and discover information, note, highlight, and share data with others.
Market users may use Sophisticated Data Analysis to discover the critical 'nuggets' hidden in traditional data, link the dots, detect exceptions, recognize patterns and trends, and help forecast performance.
The best-advanced data discovery platform is intended for enterprise users with average skills to do all of this without technical experience, knowledge of mathematical science, or assistance from IT or trained data scientists.
A platform for data exploration is a critical tool for any enterprise customer in your organization. With so many data sources, the consumers can't know whether they have access to complete, accurate data for their organization to make decisions in so many places.
---
Explore more about Data Intelligence Benefits and its Use Cases
---
Importance of Analytics for Advanced Data Discovery
With the correct Advanced Analytics Software, market users can access data integrated from multiple data sources. They can use the data for Advanced Data Discovery to gain insight into problems and opportunities, share information with other users, and be more efficient, motivated, and accountable.
Advanced Analytics requires the detection, interpretation, and communication of meaningful patterns of information and considers and applies trends and patterns to make clear, fact-based choices.
In other words, advanced analytics connects information to actions and strategies and allows the organization to set targets and objectives that are practical and feasible in terms of competition.
Although in the past few years, businesses have turned to IT and data analysts to identify, evaluate and understand data.
Today the business market is evolving too fast to wait for this information, but the truth is that business consumers need this information and expertise to do their job.
---
Know here about Deep Learning with Challenges and Solutions
---
How Advanced-Data Discovery helps the organization in achieving its goals?
Concepts such as Advanced Data Discovery and Augmented Analytics can seem elusive and daunting to the average enterprise. Nothing more from the truth can be there! The solutions available today for Advanced Analytics Applications are diverse and flexible. The right intelligent technology exploration strategy will promote data democratization, social BI, and enthusiastic consumer acceptance around the organization at every stage of the business.
The required Advanced Data Discovery helps business users leverage complex analytics in an elegant, easy-to-use environment. It turns business users with average technical expertise into Citizen Data Scientists.
These data exploration tools deliver precise, concise results that allow the enterprise in any division and place to rapidly and easily prepare and analyze information and model and explore it, notice and highlight data, and exchange data around the company.
Advanced analysis of data is not out of reach for our squad. The correct Advanced Analytics Platform helps any consumer perform research without technical experience, knowledge of predictive analysis, or assistance from IT or professional data scientists.
---
Click to explore the Difference Between Cloud, Edge, and Fog Computing?
---
What are the features of Advanced Data Discovery?
The common features of Advanced Data Discovery are listed below:
Preparation of Self-Serve Data
Enables enterprise users to perform sophisticated data analysis and auto-suggest partnerships, demonstrates the importance and significance of critical variables, proposes data type casts, data consistency changes, and more.
Smart Visualization
Smart Data Visualization proposes the best choices for a given array or class of data to be visualized and plotted based on the nature, dimension, and form of data.
Predictive Analysis Plug n 'Play
Supported predictive modeling and predictive algorithms (associative, decision trees, sorting, clustering, and other techniques) allow market users to use Sophisticated Data Exploration and early prototyping recommendations to explore hypotheses and conclusions and minimize computational and experimental time and cost significantly. It empowers market customers with access to meaningful data to test theories and concepts without the aid of data scientists or IT staff.
Conclusion
It's quick to grasp the benefits of auto-suggestion and auto-recommendation. In the past few years, suppose market customers can use methods that complement average capabilities without needing advanced technical or analytical experience and information. In that case, they are more likely to use these services to obtain practical insight and make confident judgments and predictions.